We were approached to design and build a new website by independent First Aid trainer Laurence Peacock. Initially this was a website re-design, however, after meeting with the client Skim realised elevating White Cross Training to the next level was required! This involved re-branding, a new website, adding an events & online booking system, online payments and most importantly, (we believed) bespoke filming and photography of Laurence teaching and training real people.
This was a fantastic challenge as we had a long shot list to work through (White Cross have a big range of courses to chose from) – organising babies, toddlers, fake injuries &  older willing models was fun, but exhausting! With such a niche business stock images just would not work, it was essential to not just look like a faceless 'off the shelf' website. Laurence is hard-working and personsable, running an independent business, so the website needs to reflect this.
Great to work with Laurence, very organised wife Sam and all their friendly, lovely family and friends who all gave up their morning to make the shoot a successful, productive event. If you need any First Aid training, or to brush up on your knowledge and skills to deal with child injuries and illnesses then White Cross are your go to!
Branding ID for White Cross Training: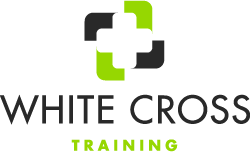 Film of White Cross Training: Final edit for the website home page: Film
White Cross Training Photoshoot (a selection) :